Black is an extremely dynamic color when it comes to dressing. It helps to lower the volume of very loud outfits a little and make them more elegant. We have seen many outfits where black is the main color, color blocking and they are truly elegant and sophisticated looks. If you add some gold or silver jewelry, you end up creating a modern and elegant look at the same time. But today we are going to see how you can create other designs that incorporate other colors.
What is the color black?
The color black is the dark tone that we perceive in the total or partial absence of light, that is, it is darkness. Black is not a color in the strict sense of the word, but an achromatic color, since it does not reflect any spectrum of light. Being such a full color, it takes a lot of work to create it with its pigments. It is not an easy task to mix colors, for example, of anilines to dye yarns and fabrics. And it will require a lot of pigments (a lot of pigment load) for the color to be truly opaque. See below for some examples of what varying the amount of pigment does to the color black.
Absolute black – Black – Jet – Carbon – Intense black – Graphite – Ebony – Spark plug black – Smoke black
What does the color black connote or convey?
There are endless emotions, feelings and messages that the color black can convey. It will depend on the moment we ourselves are going through to fully understand it, but here we show you some meanings and messages.
The color black can symbolize spiritual darkness, mystery and fear, since, in a metaphorical sense, in its presence it is not possible to distinguish shapes or paths. The belief in hidden forces or beings is closely related to darkness. Also when we say phrases like "I am in the darkness" because we are lost and we cannot see clearly what is happening to us.
Black also symbolizes death, as it opposes light as a symbol of life. Likewise, it is the color we use to represent mourning. It is a way we have to show respect to the soul that has decided to leave for a better life.
Due to its relationship with the idea of ​​evil and conspiracy to commit a crime, black also represents illegality, that is, all activities that are outside the law.
On the other hand, black has very positive connotations, knowing how to overcome the darkness that Catholicism or certain faiths gave it at some point.
Black can express power, elegance and prestige. This is due first to its sobriety, which transmits a marked and influential presence by focusing the attention of others on one's own person. Second, black stylizes the figure, which exerts an aesthetic attraction.
Black also represents authority, which is why it is present in the clothing of certain jobs, either as a uniform or as attire for certain ceremonies.
In the ancient world, for the Egyptians black was synonymous with fertility, the Greeks associated it with the underworld and the Romans designated this color as representative of artisans. In the Middle Ages it symbolized power and secret information, because men with government positions and wealthy non-nobles dressed with this color.
How to combine the color black
Monochrome
It's elegant, chic, and best of all, it's easy to get right, so it usually requires little effort. Now, you should pay attention to the quality of the fabrics. That they are well ironed, without pilling and that the shades of black are, at least, similar. This way you will maintain elegance. Remember that your makeup matches, and you can use more colors here so that the attention also goes to your face. The use of jewelry is recommended to reinforce this idea of ​​elegance.
Blue and black
French style! For it to work, make sure that there is a marked and clear difference between black and blue, I tell you this, because there are navy blues that you have to look at very carefully because they look black. This is an ideal type of combination for the office because it is conservative and formal. So that you don't look boring, use modern cuts and styles. If in the hot season you don't feel like wearing a lot, you can use these colors, perhaps with a sleeveless blouse and some skirt or pants.
Red and black
A powerful combination. Depending on the shade of red you choose, you will change the style of your look. For example, a furious or bright red will make you look like a determined and bold woman, while a terracotta or more red will make you look confident and sophisticated. A good example to start with is putting on red lipstick, for example.
Gray and black
Gray symbolizes neutrality and sophistication and in fashion it translates into elegance. Evokes peace and tenacity. In the world of design it is used a lot to convey balance (because it is the mixture of black and white). It will help soften your black look if you add something in gray. It makes it a little more casual.
Black and white
A classic combination, and one of Dior's favorites. Here we see the balance between the luminosity that white brings and the sobriety of white. Being opposite colors, they combine in many ways. It can be in polka dots, in stripes, or simply one color cutting off the other (skirt and blouse of opposite colors).
Outfit options
Here we have a pair of pants Clotsy , black, with an all-blue shirt.
The Helena shirt in black has also been released this season, which goes very well with jeans. Remember that at Clotsy we have all the types of jeans that are in trend, do not hesitate to consult the garments by entering the website, you will see mom jeans, straight jeans and more.
But also from the same brand, a comfortable monochromatic outfit for the whole day, without losing style. The model is the unisex • black jogger pants and is wearing its matching jacket.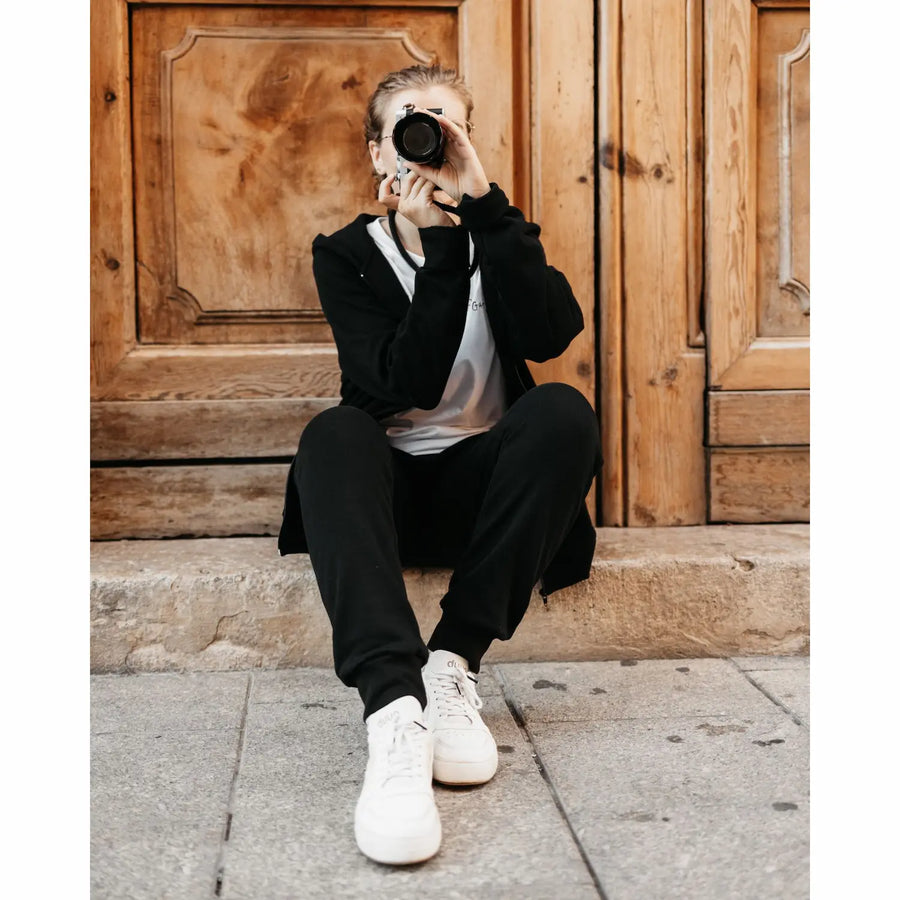 The black and white option is available in several ways, and at Clotsy Brand you have the option to try it with t-shirts and pants.
And let's not forget the print option, we have a black background dress with white flower prints, ideal. On the site you find it as Anna.
All these options belong to sustainable fashion , that is, they are garments Made with fabrics that respect the environment.
If you enter the website you will find a variety of slow fashion clothing made with organic cotton , linen fabric , viscose and tencel. I recommend that you visit each of their collections, especially the 100% cotton women's clothing collection , although I remind you that not all the outfits are black.
Conclusion
We have seen that black is a color that communicates a lot of self-confidence. In fact, one study indicates that black people are often perceived as "serious" and "trustworthy." As a safe bet on "sophistication" and being the center of attention. Let's not forget that this is a color that projects self-confidence and that, according to experts, we use when trying to impress, calm or court other people. For some, black evokes positive associations with this color, including attractiveness and elegance. The color exudes sophistication. This is why so many people choose to wear black when attending a fancy event. It's also why high-end brands like Tiffany & Co. and Chanel use black in their logos. Additionally, when it comes to high society, the color black has long been associated with power. Also learn how to combine green and its range .
To conclude the article, we leave you the following articles: preppy trend , casual look , oversized style , aesthetic clothing and colorimetry in fashion , with each of these you will have all the necessary knowledge to combine your look depending on the occasion.